Here are the tips that you can follow to get to the top of search results:
1. Title Tag & Meta Description
The most noticeable element on the search engine result page is Title Tag. Title tags are so basic
that they often get ignored despite the fact that the first thing a user notices about your website is the title tag. Experts say that Title tags are the 2nd most vital on-page factor for SEO, after
content.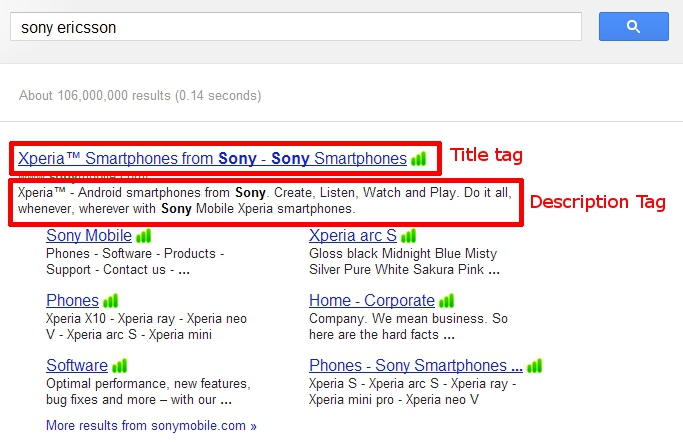 So here are some valuable tips to optimize your title tag:
Auto generated title tags are your enemy i.e. WordPress could create your title tag, but sticking to it will cost you visitors. So first analyze that what could possibly be the best title
tag that sums up your whole content in an appealing way.
Don't try to stuff your titles with keywords, use a keyword which is also describing the title. Keep your title tag in the front, it's helpful for both search engines and users.
Keep your title tag in the front, it's helpful for both search engines and users.
Your title tag should guide the user, so make sure that you're making title tags for humans.Also, the meta description gives you 160-200 characters to play with, so make sure you are
Also, the meta description gives you 160-200 characters to play with, so make sure you are
making full use of it.Be as creative and descriptive as possible. Consider it like your little ad space.
Be as creative and descriptive as possible. Consider it like your little ad space.
2. Online Directories and Citations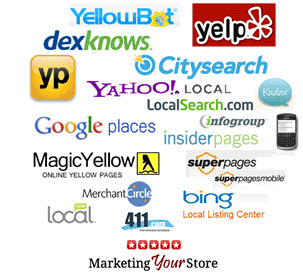 Local search is becoming more fruitful as compared to big scale search. Since you are a local
small business owner, you know the specific requirements of the local audience and that's where you can beat your competitors. Nowadays, being the best bakery shop in California is much better than being an OK bakery shop on a national level.
3. Google My Business
Google My Business (GMB) is also a directory, but it's so big and significant that it deserve its own section! We think you might already have a GMB account as of now, but if you don't, do it NOW!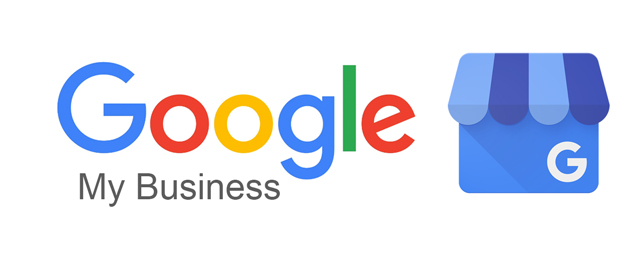 It's highly likely that your business information will be on Google already, so all you have to do is
to claim your GMB page. Don't worry, Google will not charge a single penny.
In order to claim your GMB, you will have to go through the verification process. Google will send a postcard with a PIN to your physical location. You can then use that pin to verify your business and claim the GMB account. You should also claim Bing places for business because many people use Bing as well and you should not miss any opportunity.
After claiming your GMB and BPB, go through each and every section and provide all the
information. It's crucial that you list as much information as possible because Google uses it as a ranking factor and it can help you to get into the local 3 pack.
Once you get into the local 3 pack, it's sure that your site will get more visitors than ever!
4. Reviews matter… A LOT!
It's a no brainier that Reviews are beginning to play a more important role than ever before. Almost everybody performs local search before going to any shop so that they can make a well-informed decision. They not only go through the website but also check out reviews about the business on different platforms. They are taking advice from others and also sharing their own personal experience with their friends, family members, and strangers as well using sites like Yelp. Now it's important than ever that you focus on the reviews that your business is receiving. Any negative review will negatively impact your business in both short and long run. So if you are looking forward to gaining more and more customers than focus on getting positive reviews.

Often times, the happy customers hardly give reviews but the one who disliked your product or
service will surely pour out their hate on as many platforms as possible. You can't totally avoid
bad reviews, but you can do your bit to ensure that only positive reviews get highlighted.
You might be wondering how you can do that, here's how:
The happy customers are not bothered about giving any reviews but if you will encourage them
to do so, they will surely make the efforts. So after anyone has completed any transaction, direct them to your review page (If you have any) or after a while send the review page links to their email. Most of the times they will be more than happy to review your business. Now after they are done, promote this on Facebook and twitter and other social media platforms.
Another way to get positive reviews is using ur review widget which is placed on the website and makes sure that the negative reviews are filtered out. Not only that, it also asks your happy
customers to post the reviews on Google and Yelp thus improving your brand presence. For more information on the review widget, please connect with us.
5. Use Structured Data Markup

Despite the sheer importance of Structured data markup, only 31.3% of websites are using it.
Structured data markup provides more information about your business & products/service to
the search engines. Thus it helps you stand out from the crowd. You can add schema markup to your site's code and help the Google bots to determine what your site content is about. Which will ultimately benefit you!