Fake Yelp reviews are not new and have been around for quite a while, causing various businesses and online marketers to suffer. It also makes it difficult for customers to trust reviews that influence their buying decisions.
As times have progressed, businesses seem to have found new ways for bending the rules to rank high and drive sales on Google Search. The New York Times first brought this to light in 2016 with a report on a plethora of fake locksmith listings. Recently, the same locksmith review problems were reported by the CBC in Canada. The downside is that the fake review problem has made its way to almost all types of businesses.
In order to curb and put an end to fake reviews, Yelp recently started labeling some of the offending businesses with the following "Badge Of Shame".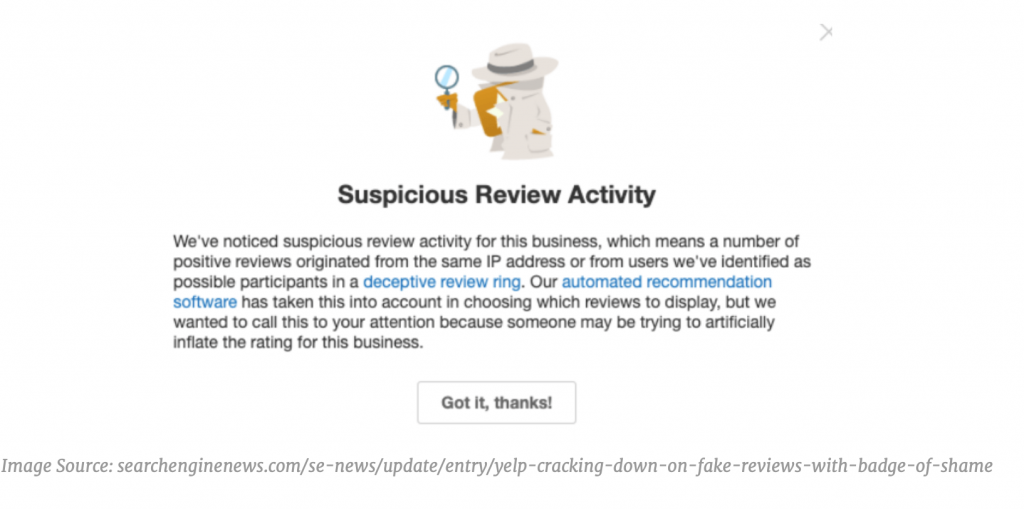 This move from Yelp comes at the right time as more and more instances of fake reviews have come to the surface, compromising the very foundation of genuine customer reviews. For example, a simple Google search for "Where can I buy Yelp five star reviews?" lists down multiple results that provide these fake review services for a price.
Actionable Strategy
Note that Yelp is doing its best to fight back fake reviews and if your business is dependent on a good listing in Yelp (or even if it is not), always avoid using fake reviews because failing to do so considerably raises the risk of being given a "Badge of Shame" from Yelp.
If you want to get genuine reviews on Yelp, do consider our review widget – which gives you a chance to get positive reviews on Google and Yelp from real customers. Positive reviews get featured on your website too. Get in touch with us for more info.