Google My Business itself is not a public-facing, searchable directory (such as Yelp), BUT your listing on Google My Business is what many other public-facing, searchable directories pull from.
This includes Google Maps, which has become its own hybrid form of a review site/business directory/navigation service.
Your Google My Business listing can also impact your rankings in search results on both Google Maps and regular Google searches.
If that's not enough to convince you, here are some compelling stats that highlight its importance.
Businesses with a Complete and Accurate GMB Listing:
Are 2.7x more likely to be considered reputable
Get 7x more clicks
Complete and Accurate GMB Listings:
Are 70% more likely to attract location visits
Are 50% more likely to lead to a purchase
Here's how you can optimize and take full advantage of your GMB listing
BASIC LEVEL
1. Set up your Google Business listing

The first step is to set up (or claim) your Google My Business Listing. Go to Google My Business page and click "Start Now" in the upper left corner.

Did you know that anyone can list your business on Google? That's a little scary, but fear not—you as the owner can claim your listing which grants you the access to edit and update your information, to post timely information, and to manage reviews. The claiming process requires a few steps, but it is a must.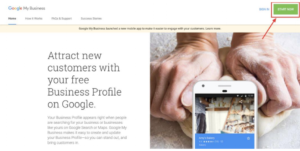 2. Complete your listing
Fill in every relevant field that Google offers. You want to make sure the profile is as complete as possible and that every piece of information is accurate.
The impact of inaccurate or inconsistent listings is not one you can afford. A complete Google My Business listing includes:
Business name: The legal / official name of your business.
Address: Full address of your business.
Phone number: A number with a local area code is recommended. That's one extra signal to Google that you are actually local. Make sure the number you use for your Google My Business listing is also displayed on your website.
Category: Choose a relevant category. This will help Google decide which searches your local listing belongs in.
Website: Your website URL.
Hours of Operation: The hours your business is open. For days when you have unusual hours, like holidays or special events, you can set special hours.
Description: What you offer, what sets you apart, your history, or anything else that's helpful for customers to know. Allowable limit is 750 characters. Keep in mind that only the first 250 characters show up in the Knowledge Panel, so prioritize your information. Finally, no links or HTML.
Photos: Showcase your products and services to people who are looking for what you offer. Consider hiring a Google approved photographer to create a 360-view virtual tour of your business for customers. According to Google, listings that have a virtual tour and photos generate twice as much interest as those without.
Depending on your industry, there may be additional fields such as menus for restaurants.
A complete listing makes it as easy as possible for potential customers to find and contact your business. In addition, the more complete your listing is, the more favor you will receive from Google when ranking you in results.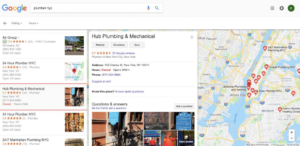 3. Make sure your information matches everywhere else
One thing Google's algorithm looks at to verify the legitimacy of a listing is a consistency in how it's listed across different websites. While that seems simple enough – your address is the same each time you enter it somewhere – it's easy for little differences to slip in. Maybe you wrote out the Road part of the street name one time, and shortened it to Rd another time, for instance.
Pick a standard way to write out your address, a consistent phone number to use, and make sure all your listings match both each other and the information you provide on your website. And work on getting your website listed in as many relevant directories as possible.
4. Avoid penalty-inducing offenses
Any work you do to optimize your website or local listing will be for naught if you incur a penalty. Google suspends business listings for a range of offenses. Getting suspended is stressful, confusing, and bad for business, so it's best to avoid doing anything that puts you at risk of it.
Read through Google's guidelines for Google My Business listings so you have a full understanding of what not to do. Some of the main things to avoid are:
Using a URL that redirects to your website's URL, rather than the actual URL itself.

Trying to awkwardly add keywords into your business name field.

Having multiple local listings for the same business location.

Using any address for your business that isn't a physical storefront or office space where you meet with customers.
Use common sense and don't try to play the system or get extra listings and you'll probably stay on the right side of Google.
5. Encourage reviews
You'll notice that the local businesses listed in the map snippet of a local search usually have star ratings next to their name. Google wants to provide the most useful information to its users, and users want to find the nearby business that seems the best. In both cases, it benefits your business to have a high star rating.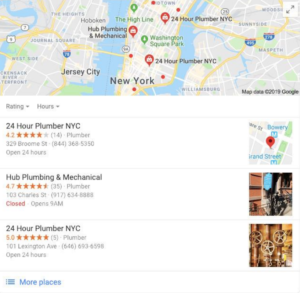 Ask your happy customers to take a few minutes to give you a review on Google. Include an encouragement on promotional materials you hand out or put up in your store. A gentle nudge or a reminder of how much it means for your business can make your loyal customers that much more likely to take the time to say a few kind words about you.
Utilize our proprietary Dashboard Review Widget as well as our Survey Module to get positive reviews for your business listing on Google and Yelp.
6. Make sure your website and content is optimized for search
All the usual SEO advice that helps strengthen the authority of your website in the eyes of Google matters here too. So don't focus on optimizing just your local listing. Optimize your website as well.
Make sure that you:
Incorporate relevant keywords into the meta tags and copy on each page, where you can do so naturally.

Add schema markup to your website.

Create content with a local focus i.e. locally relevant landing pages.

Look for local linking opportunities.
A strong website that's optimized for both your customers and search engines will be that much more likely to make it into the list of the top three in a local Google search.
ADVANCED LEVEL
7. Post to Google My Business
Just like with other social media platforms, you can now post directly to Google My Business. Your posts show up on the "Posts" tab of your listing, but might also become visible on your Google Maps or Google Search result, depending on relevance.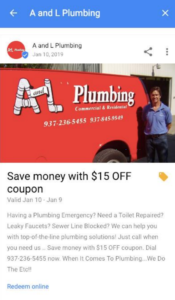 Through Google posts you can make announcements, create events, highlight products, and run promotions. The information in these posts is that which customers need in order to stay engaged with you, which is ultimately what leads them to choose you over competitors. In addition, each post type has a call to action button, making the experience from discovery to engagement seamless.
If you're not already convinced the impact Google Posts can have on your audience, check out this quote from Google:
"Seventy percent of people look at multiple businesses before making a final choice. With Posts, you can share timely, relevant updates right on Google Search and Maps to help your business stand out to potential customers. And by including custom calls-to-actions directly on your business listing, you can choose how to connect with your customers."
8. Utilize Questions & Answers
Questions & Answers is a great feature for Google local search. It's very cool! Just like it sounds, Q&A allows people to ask questions about your business and you can answer those questions.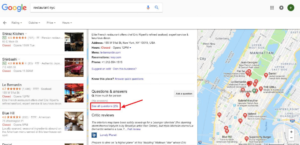 The Google My Business Q&A feature is the perfect opportunity to hear directly from "the people" and you can respond to them. Win-win.
One thing you should do is be proactive and create a Frequently Asked Questions list to preempt people's GMB Q&As. Check with your sales reps and your customer service staff to identify the questions people most often ask, then put those Q&A questions on your GMB listing.
TIP: Google has said that upvoting questions can make them more visible. If someone has a particularly important question, go ahead and upvote it.
9. Google My Maps Syndication with Driving Directions
Google My Maps Syndication is an advanced level strategy to gain local With Google My Maps Syndications, you can get:
Map mentions from top ranking GEO locations
Locally optimized Tier 2 links and embeds
Driving directions to your location from serviceable areas
Improved local search rankings
Here's how an optimized Google My Map with driving directions (embedded on the website) looks like: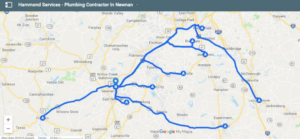 10. Respond to Customer Reviews. Even Negative Ones
The reviews on your GMB page can be a deciding factor in whether or not a buyer engages with your brand. Just check out some of these statistics about Local Consumer Reviews:
85% of consumers trust online reviews as much as personal recommendations
Positive reviews make 73% of consumers trust a local business more
68% of consumers left a local business review when asked
30% of consumers say they've judged a business based on its responses to reviewsWhen making a purchase decision, people look to others for their opinions. We all do it. And we do it often. We want to learn from the experiences of those who have purchased before us. Always respond to your reviews. Positive reviews give a good impression of your business and should be easy to respond to.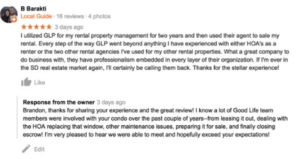 But what do you do about the inevitable 1-star rating and the scathing negative review?
Many businesses shy away from them, hoping they'll go unnoticed. But you need to respond to those reviews. The people leaving them deserve it, and the people reading them need it.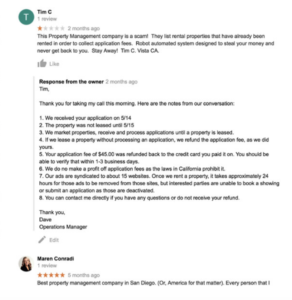 Conclusion
There are many ways customers can find your business, but there is no denying that Google My Business is an incredibly powerful gateway to your website.
It positions your important business information in front of the eyes of potential customers who are looking for your product, service, or experience.
It helps with your local SEO, offers a chance to engage with your customers via reviews or posts, and provides useful insights on your customers' purchasing paths.
For more SEO tips and the latest updates in digital marketing, contact us to learn more!