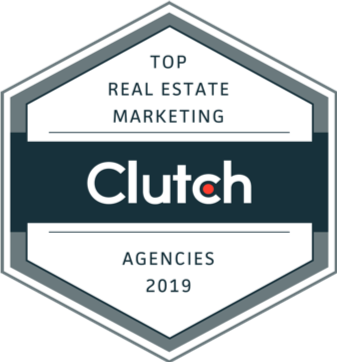 When it comes to SEO services, SEO Solutions takes a one-size-fits-one approach. Our team is skilled in creating affordable website marketing and SEO strategies designed to boost qualified traffic to our client's web pages. We pride ourselves in following the most ethical and sustainable web strategies.
After 12 years of hard work, we are proud to announce SEO Solutions has been highlighted in a new report recognizing leaders of the marketing industry. We have been recognized for our marketing and advertising work in the real estate field by Clutch, a trusted B2B market research firm.
Based in the heart of Washington, D.C., Clutch is a ratings and reviews platform dedicated to connecting prospective buyers with top B2B firms. Clutch ranks firms in a wide variety of industries and locations. By featuring ratings and verified customer reviews on each profile, Clutch serves as a comprehensive market research tool for B2B buyers. Below, we have featured a quote from our most recent 5-star client reviews.
"Since I focus on results, our SEO ranking is the number one factor in my assessment. The personal attention has been great. We're pleased that things have been working smoothly for the past several years" – Daniel Naylor, President, Institute of Real Estate Education
In addition to our feature on Clutch, we have received recognition on The Manifest, a Clutch-owned business news platform that offers state of tech news, how-to guides, and industry rankings. Visual Objects, another Clutch sister site, allows buyers to read further search results on their prospective companies and view portfolios of past work.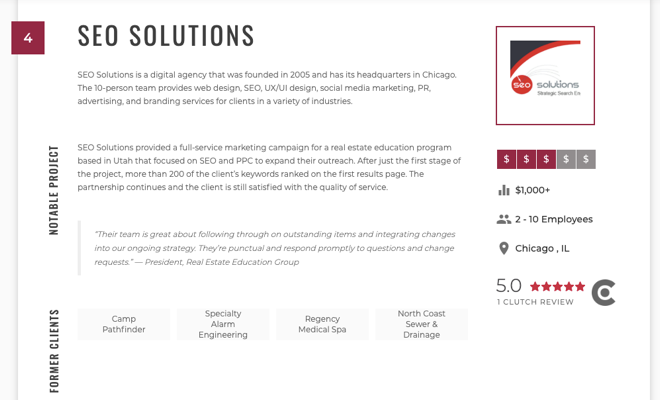 SEO Solutions is proud to be a Clutch leader.  We thank our clients for helping us earn this recognition by participating in the reviews process.
"SEO Solutions has been dedicated to the success of our customers through innovation and hard work. We are proud to accept this award!" – Weston Riesche, Marketing Manager, SEO Solutions
If your company is in need of sustainable SEO strategies, get in touch today.