It's more than an obvious fact that consumers are most likely going to rely on newer reviews than the older ones. Also, in comparison with older people, younger individuals greatly depend on reviews for a number of things.
What's so surprising in this, you would ask? A new study has not only proved these facts but has also come up with some insightful metrics indicating the year after year changes.
A Local Consumer Review Survey published by BrightLocal last month, revealed that reviews are critical to the decision making process of consumers choosing goods and services from local businesses.
The below screenshot indicates a strong correlation between the trends and the age of the consumer.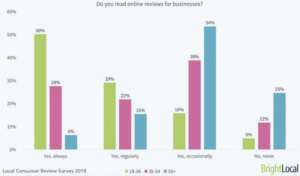 It's nothing of a surprise that consumers aged 18-34 grew up in the online era. While those older than them grew up taking recommendations from friends and neighbors.
However, it all comes to the same point, people still consider reviews. The only difference over the years is that they are now digitized and available online for everyone to see other than just your friends or neighbors.
Key Findings of The Study
91% of 18-34 year old people trust online reviews as much as personal recommendations
40% of consumers only take into account reviews written within the past 2 weeks – up from 18% last year
More consumers require multiple reviews to trust reviews
80% of 18-34 year old people have written online reviews – compared to just 41% of consumers over 55
Older consumers are more likely to be skeptical about online reviews
In case you are looking for stats and in depth details, read the Full Report and for takeaway points, follow our Actionable Strategy based on the findings of the report.
Keep your reviews fresh if you are planning to target younger customers.
Reviews that are older than 90 days become less valid, those that are less than 2 weeks old are best and those within a couple of days are ideal.
Bad reviews create a negative impact on customers, you must put in all your marketing strategies to action to turn them into good reviews.
The more the reviews, more will customers believe in their authenticity. Make sure your product/service has LOTS of reviews or at least more than 10 reviews.
Having No reviews is almost as bad as having bad reviews.
So be open to reviews and deliver what your customers are looking for! If you're looking for genuine reviews, we highly recommend you to check out our proprietary "Review Widget" which helps you get positive reviews on Google and Yelp. Not only that, it automatically filters out negative reviews being displayed on your website thus enabling better customer experience.
For more SEO tips and the latest updates in digital marketing, contact us to learn more!