Google is now rolling out the "Mobile First Index". The rollout is limited to sites that follow best practices for mobile first indexing.
Google previously moved a limited number of sites to mobile first indexing, but this time it's on a much larger scale.
They confirmed that they will be informing webmasters/site owners about the migration via Google Search Console. So if you are a webmaster or site owner, you might receive a message like this: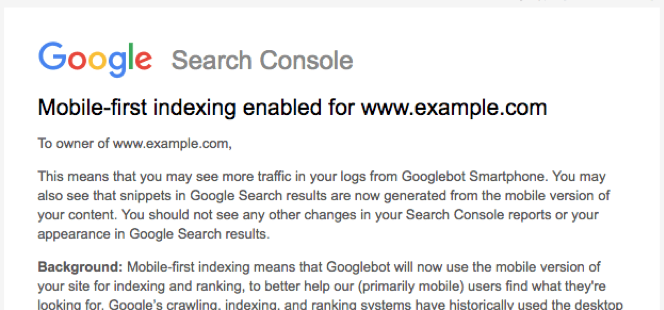 Google added that the site owners will see a significant increase in crawl rates from the smartphone Google bot. Also, they will show the mobile version in search engine results and cached pages once the migration is completed.
What is mobile-first indexing?
Google says it is how Google crawls your site. Google will only have one index, but how Google crawls and creates the index will be based on a mobile-first experience going forward. Google wrote:
To recap, our crawling, indexing, and ranking systems have typically used the desktop version of a page's content, which may cause issues for mobile searchers when that version is vastly different from the mobile version. Mobile-first indexing means that we'll use the mobile version of the page for indexing and ranking, to better help our — primarily mobile — users find what they're looking for.
Google has a detailed developer document on mobile-first indexing.