Google released a core algorithm update in August. Some industries were hit harder than others. Basically, the health and medical industry, and "Your Money Your Life (YMYL)" sites were affected the most. Webmasters were quick to call it the "Medic update". In case you don't know about "Your Money Your Life (YMYL)" sites, Google defines them as sites that can potentially impact the future health, happiness and financial stability or safety of the users.
Google also released a statement after the update launch and gave a generic answer which was along the lines of — "There's no specific fix for this update or any update. If you notice that your site has been affected, just work on providing the best possible user experience and you will start seeing improvements because ultimately, our every update is for the same purpose."
Google did take the time to announce the algorithm update via Twitter: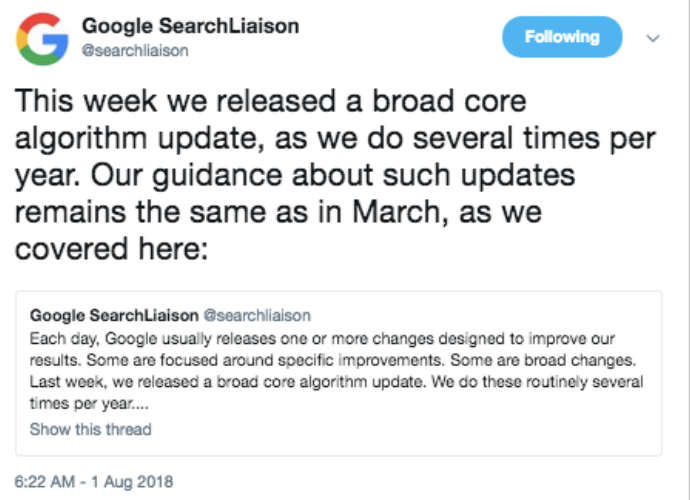 Google has also updated the Search Quality Rater Guidelines and has put a lot of emphasis on Reputation. The guideline is rather comprehensive, and it's worth the read. It tells you about how Google views the websites, pages, and content, so you can use this valuable information to your advantage.
Here are some highlights:
Build strong links with the influencers & experts of your industry. And then persuade them to write content for your site or write content promoting your business on a reputed website.
Find out how your brand looks like on the search engine result pages and is this how you want your business to appear? If not, then you can make changes.
It's important that you have a well drawn out plan to promote your business.
Reputation is everything when it comes to business, be it online or offline. Getting positive reviews for your business is vital to managing your online reputation. Our dashboard helps you manage your reputation as well as get more positive reviews in Google and Yelp.
When it comes to content, quality beat quantity by a large margin. Don't post content just for the sake of it. You are not fooling anyone.
Have you put efforts to define your brand? What your brands stand for?
Interview the business owners for ideas and insights into what makes their business unique over other businesses. We do this as a part of our SEO deliverables.
Your About Us page is very important. Use it to show your achievements, what makes you stand out and why people should consider your business over others. However, make sure that you don't exaggerate, because Google double checks it with reliable independent sources. And if what you have to say about your company doesn't match with independent sources, then Google will take words of the independent sources for obvious reasons.
Contact us For more information on all of Google's latest updates.
Sign up for The SEO Solutions Newsletter to read up on all the latest updates!