If you think Google is done with the Panda and Penguin updates, think again! On March 7,
Google released an 'unannounced' algorithm update causing serious damage to websites
having a poor user experience. Sites which were affected saw anywhere from a 50% to a 90%
drop in their organic traffic from Google overnight!
Some of the websites were ad heavy to the point that the ads interfered with the users' ability
to digest their content. Other sites were built exclusively to cater to Google's algorithm and left
the actual website visitor frustrated when they landed there from the search results. There were other categories of sites affected that were either part of low-value niche and lead generation sites, engaging in paid links or were simply low-quality affiliate sites. The only thing that ALL of them had in common was that they scored low when analyzed via Google's Quality Evaluator Guidelines.
Related Article: How To Get Your Website Visitors To Stick Around
Google hasn't released a statement and so far the only confirmation from them was a
confirmation at SMX that the "Fred" update was a Quality Update as well as a Gary Illyes tweet
saying that they won't deny there was an update.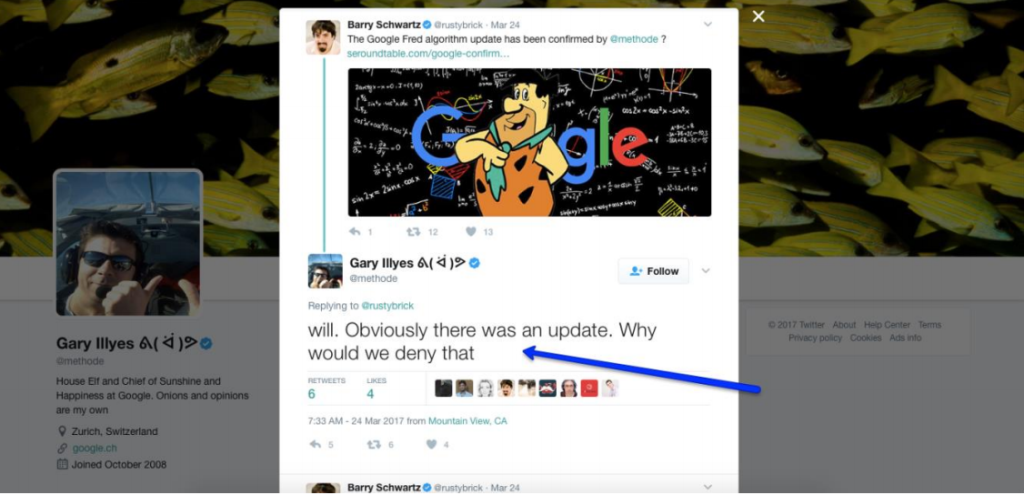 We decided to partner with another firm to run some numbers. With a dataset of 3,500+ websites and 240,000+ keywords (local and national), we got a birds-eye view of how client campaigns are performing.
Not surprisingly, we were happy to find that this update didn't have any negative impact on
our client campaigns. In fact, we have seen improvement. The quality of the SEO deliverables which we offer saved our clients. This is a perfect example of how our strategies future-proof your business and add true long-term value to your company and online brand.

So, how are we protecting our clients and how can you protect yourself from the Google Fred update?
---
GOOGLE RELEASES FRED ALGORITHM UPDATE.
WHAT YOU NEED TO KNOW.
1. Get the basics right i.e. focusing on On-Site optimization which includes
correcting all possible 404 errors, fix duplicate (thin) content on the site, the creation of
landing pages, etc. Internal blogging is also a good addition which should be done on a regular basis with a strategy and a schedule for each quarter.
2. Do a thorough backlink analysis at the start of the campaign to weed out bad
backlinks which can prove to be harmful.
3. Vary anchor texts to have a proper balance between branded and non-branded
links. We also ensure proper link velocity as too many links at a time can be flagged by
Google.
4. Always diversify the backlink profile of your website. Your link profile should include local directories, videos, infographics, informational content, coupons, guest blogs, etc.
5. Below are some of the additional backlink sources that can be included in your SEO program
deliverables to further diversify your backlink profile.
Startup Business Listings
Magazine / News Placement
Q&A Posting
So, if you're hit by the "Fred" update OR want to make sure you're not going to be a likely victim,
we can help. Just connect with us and let our professional SEOs do the work for you. And
yes, do not forget to ask for a copy of our latest SEO Deliverables which are always customized for your company and industry.
Related Article: Tips You Can Follow To Get To The Top of Search Results