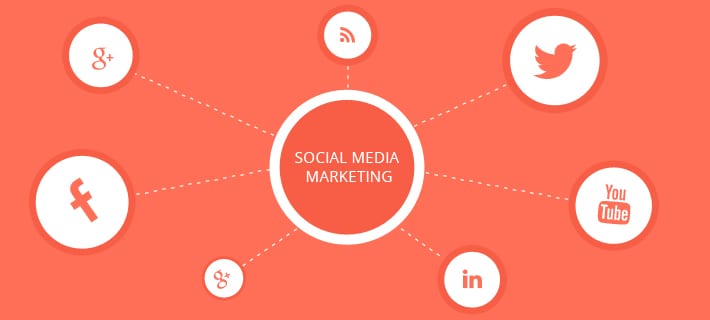 Social Media Marketing
Does your Social Media Marketing / Web 2.0 strategy include these deliverables?
It takes 6 to 8 months to get results from Search Engine Optimization. However, business owners do not have time or patience to wait for 6 months. The solution is to use Web 2.0 or Social Media Marketing techniques to get quick results. You can get results within a Week or a month. Social Media sites like You Tube, FaceBook, MySpace have huge traffic. But you need experts who can help take advantage of these web sites to market your business. There are thousands of Social Media web sites, but you need to select the best sites which can get you traffic.
Comparison Table For Our Social Media Services
Facebook, Twitter, Google+ & Pinterest

  PLAN 1  

  PLAN 2  

  PLAN 3  

  PLAN 4  

Setup
Social Account Creation
Facebook Cover Design
Twitter Background Design
Twitter Header Design
Google+ Cover Design
Keyword Based Profile Content Writing
Facebook Applications
2
4
8
10
Social Search
Creating Google+ Circle Group
Following / Add to Circles
Google+ Direct Connect
Join Relevant Google+ Communities
Social Website Integration
Social Plugins
Social Content Development
Editorial Calendar
Backlinks
Posts / Week – Facebook & G+
3
6
9
12
Tweets / Week
3
6
9
12
Sharing in Google+ communities
Pin Images (Images to be provided by the client)
Backlinking with Photo Pinning
Detailed Work Report Custom Pinboard
Marketing Dashboard
Detailed Work Report
Insights / Analytics
Average sentiments
ROI Measurement
Customer Support
Email
Phone
Chat
Other Services
Facebook, Twitter, Google+ & Pinterest
À la carte Social Media Services:
Price
Twitter Background
$118
Twitter Cover Images
$118
Google+ Cover Images
$118
YouTube Channel Cover Images
$118
Facebook Cover Images
$118
Facebook Custom Tab
$358
* We will give you a list of topics or options for Press Release writing or Creating Videos. You need to respond to our questions in a timely manner to ensure that your project gets completed on time.
The total delivery time for any Social Media Marketing service varies from 30 to 60 days (depending on frequency of client communication and service selected).