SEO & Digital Marketing Services for CBD Companies
SEO Solutions provides the most robust digital marketing and SEO campaigns for CBD companies. Our full-service digital marketing campaigns for CBD companies include SEO services, PPC, Social Media Marketing, Lead Tracking, Retargeting, and Display Advertising.
SEO is a MUST for CBD Companies
The CBD industry is growing at an extremely rapid pace. According to a recently published Forbes.com article, "the collective market for CBD sales in the U.S. will surpass $20 billion by 2024." This research was confirmed by leading cannabis researchers BDS Analytics and ArcView Market Research.
Digital marketing for CBD companies and SEO for CBD is going to be critical to the success of your CBD company. Americans are now buying more items online than in physical stores. CBD is a product that is often purchased online because there are a limited amount of physical stores that sell CBD in many states.
According to U.S. Census data released in early 2019, online sales accounted for almost 12% of the $506 billion spent on retail purchases which narrowly beat the amount spent in physical stores. We can expect this gap to widen as more and more companies build websites and forego the costs associated with having a physical location.
Our SEO experts have designed local, national, and e-commerce SEO programs to help your CBD website gain first-page search engine results exposure. We also offer other forms of digital marketing that your CBD company can take advantage of to help you box out your competition. Our PPC management programs and Social Media Marketing campaigns can get your website in front of millions of people looking for a great CBD company.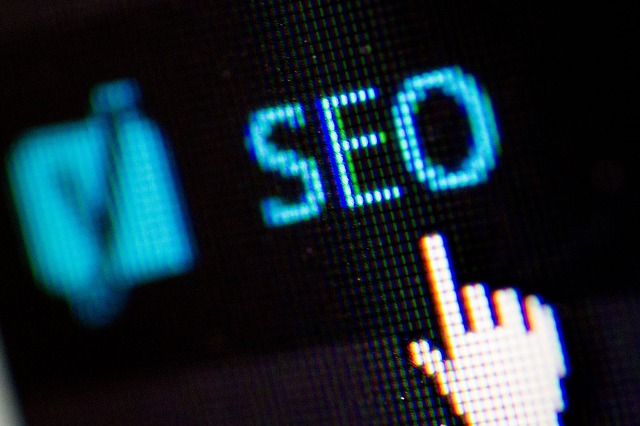 Search Engine Optimization – or SEO for CBD companies – makes web pages easier to find and helps your business stand out.
In order to grow your CBD business in this rapidly growing legal market, effective advertising and marketing strategies are crucial to your success. With nearly 74% of all consumers using search engiens to locate a business's information, SEO offers an opportunity for low-cost advertising with a wide reach. 
Optimizing your online presence with SEO, PPC or Social Media Marketing to increase targeted traffic to your website and improve sales is something that should be done as soon as possible. These digital marketing channels provide an excellent ROI when compared to initiatives such as email marketing & print advertising.
More Details about SEO
If you've ever used Google, you know what a search engine does even if you didn't know how it works.
In a nutshell, to get your website listed near the top of the first page of search engine results, it needs to have certain "on-page" elements that reflect the keywords you want to rank for.
Additionally, your company needs to publish great industry, company, and product-related content that is listed "off-page" on other websites that link back to your website. These links can be thought of as a vote of confidence. When one website has more high-quality links than another website, Google will likely rank the website with more high-quality links higher than the website with fewer links/"votes".
Additional ranking factors include social metrics, business citations, website load time, website security, mobile-friendly and much more.
Outrank your Competitors on Google, Bing & Yahoo
It is important to note that while it is not impossible to optimize your website yourself, SEO is an ongoing process that must be performed on a regular basis. Completing all of the work yourself or with your colleagues and then monitoring the campaign will take up a lot of your time and resources.
Working with a professional SEO organization provides you with many benefits. One of the most exclusive benefits SEO Solutions offers our clients is access to our digital marketing and reporting dashboard. We encourage you to view our digital marketing dashboard capabilities and features. 
SEO Solutions Marketing Dashboard
SEO Solutions provides the most robust digital marketing and SEO campaigns for CBD companies. Our campaigns include hundreds or thousands of deliverables, depending on the scope of your project. In order to manage all of these activities, we built the reporting dashboard mentioned above that can be accessed by our clients 24/7/365.
Weekly Keyword & SEO Activity Reports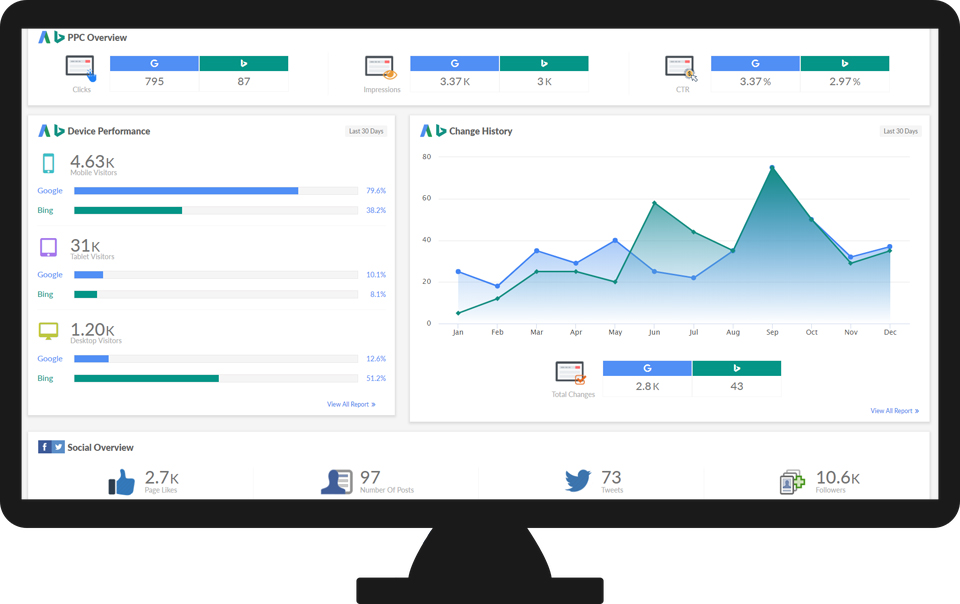 Online Reputation Monitoring
Weekly Keyword & SEO Activity Reports
Online Reputation Monitoring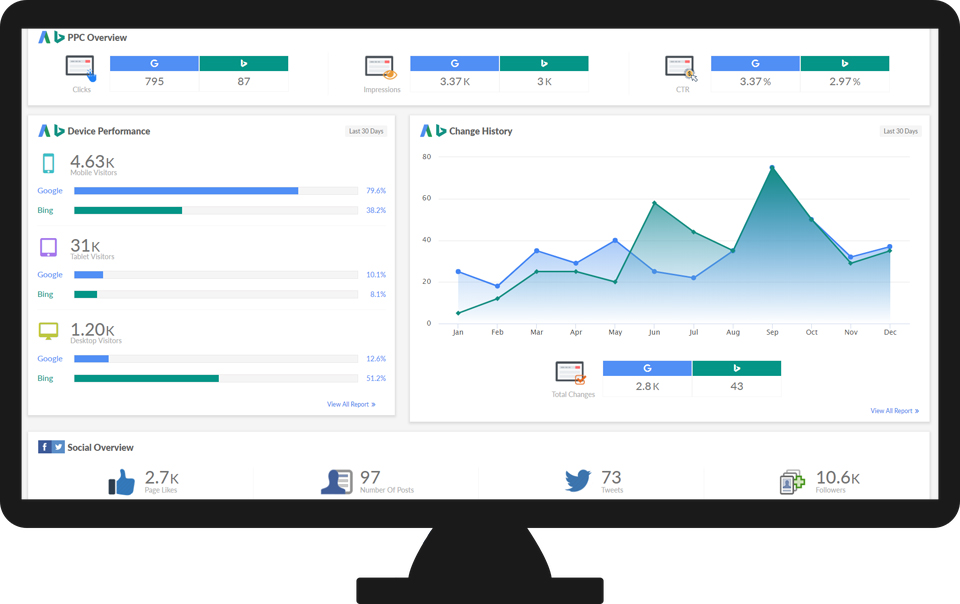 Our API Partner
We continually cultivate strong relationships with our search marketing, social media network partners and other leading companies to bring our customers best-in-class experiences.

SEO Audit Report
Try our FREE website audit tool and you'll receive a 22-point evaluation, covering over 60 rankings factors. This report also includes a detailed competitor analysis.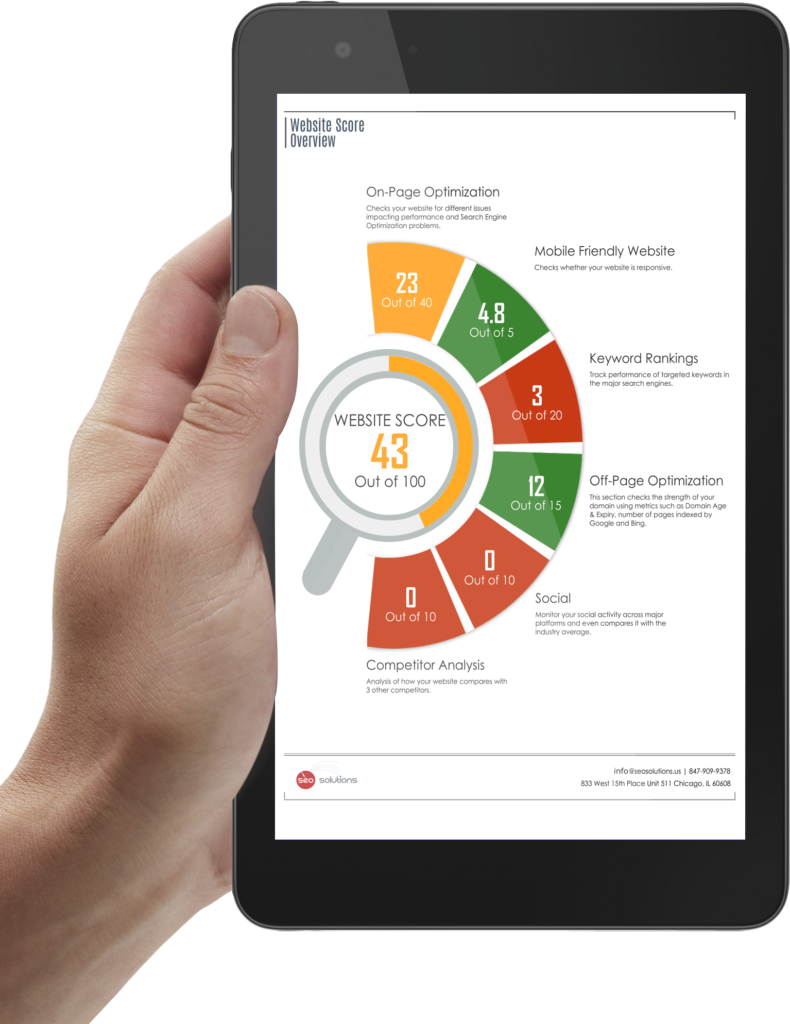 Check Your Website for FREE.
Find Out What is Holding Your Website Back!
Complimentary Website Audit Represents a $300 Value